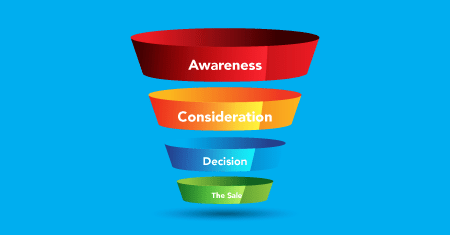 Aligning Video with your Marketing Goals
Having a video sales funnel strategy is the right move for your company and needs to be an important part of your overall marketing strategy. You already know a sales funnel, or buying process, is the path prospects follow while considering products or offerings.
But how does video fit into the funnel and your overall marketing strategy?
Each part of the sales funnel has different video types and optimization strategies which increase the likelihood of conversions — letting you influence your prospects during the buying process.
Top of the Funnel Content
Awareness: offer the prospect useful information
In the top section of the funnel you need to take a high-level approach with your videos. Potential prospects in the top of the funnel are recognizing they are in need of certain services and are beginning their research. This is where you show them you offer what they need.
Educational Videos
Repurposed Webinars
How-to Videos
Company Culture Videos
Middle of the Funnel Content 
Consideration: show the prospects you are best option
The middle of the funnel is where you begin to more deeply inform your more qualified prospects about your product or offerings. This is the prospects contemplation stage. They have been researching not only your company so this is where you need to inform them your product is the one they need.
FAQ Videos
Explainer Videos
Case Studies
Bottom of the Funnel Content
Decision: build trust with the prospect and close the sale
This is where you make the conversion. It's time to build trust through authenticity with your prospects. Videos created for the bottom of the funnel help you close the sale.
Product Demos
Customer Testimonials
Review Videos
So thinking strategically and crafting your videos properly for the sales funnel for your target audience will help you grow your business.
Ladder Hill Productions creates powerful, engaging videos. Let's talk about your video efforts and the types of videos in the article. Send us a note — we're here to make your stories appear.
https://ladderhillprod.com/wp-content/uploads/2018/04/funnel4.png
235
450
Ladder Hill
http://ladderhillprod.com/wp-content/uploads/2017/07/logo-125.png
Ladder Hill
2018-04-04 01:58:11
2018-04-04 14:27:03
Aligning Video with your Marketing Goals